---
Holiday Hours
Christmas Eve - Downtown Closed, Express open 8 am - 2 pm
Christmas Day - both locations closed
New Years Eve - Downtown Closed, Express open 8 am - 2 pm
New Years Day - both locations closed
---
DECEMBRRR DASH RESULTS are in!
Click here to download the results (pdf). 
---
The Giving Tree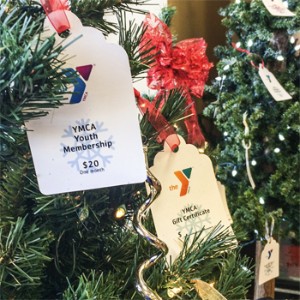 This holiday season the Giving Tree is returning to the YMCA lobby. It will be filled with tags that offer a YMCA experience to a child or family who otherwise would not be able to participate because of limited financial resources.

Your generosity can give an experience of soccer camp, basketball league, swim lessons, child care or any other program the YMCA offers.

Simply select a tag from the tree at either Y location and purchase the gift at the business desk. All gifts will receive an IRS compliant thank you note for tax reporting purposes. In addition, the child or family benefiting from your gift will write a note telling you about their experience.
---
Our Focus
At the Y, we measure the success of our cause by how well we engage communities in our three areas of focus. 
Youth Development
Nurturing the potential of every child and teen.
Healthy Living
Improving the area's health and well-being.
Social Responsibility
Giving back and providing support to our neighbors.
Everyone is welcome at the Grand Island YMCA. No one is denied a membership because of an inability to pay. Scholarship assistance is based on family size and income.

Speed & Agility. An 8 week training designed to increase athleticism in young athletes of all sport backgrounds. Pr…

https://t.co/on1SBCCXxz

Give a gift that will make an impact. Give a gift from the Y Giving Tree at either Y location.

https://t.co/gQldoW7509

Kick off 2018 with a new drive to get fit, be healthier, and lose some weight. Our weight loss program is designed…

https://t.co/P1qa00SR5X
---