Melanie Horky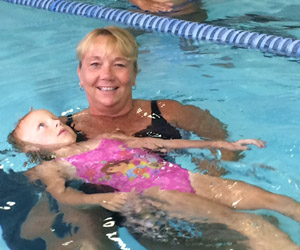 Aquatic Director
With the Y: Starting in first grade, I came to the Grand Island YMCA every day after school because my mom was working at the Y. When I was 4 years old, my parents saw me jump off the high diving board and dog paddle to the side. They put me in swim lessons at the YMCA. That began my love of swimming. I swam competitively for the Grand Island YMCA swim team and for Grand Island Senior High. I was able to win 3 events at the Nebraska State Swimming and Diving Championships. I was fortunate to receive a swimming scholarship to the University of Nebraska-Lincoln. I was an "All Big 8 Selection" in 3 events.
Qualifications: Even though education was my field of study in college, I went into YMCA work after graduating from college. Growing up at the YMCA, it became part of my soul. I spent 12 years working in Beatrice, Nebraska, Rapid City, South Dakota, and Grand Island. I left the YMCA to try other endeavors but returned to the Grand Island YMCA in January of 2008.
Hobbies & Interests: I love the beach. My family likes to travel so usually during the winter we take a trip to a tropical destination like the Caribbean or Mexico. There is nothing better than sun, sand, and the ocean!
Favorite Quotes: "Today is a day that you never had before. Today is a day that you will never have again." "Thank you, Lord, for thinking about me. I'm alive and doing fine."