Pickleball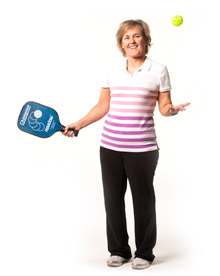 ---
Pickleball Tournament March 25
Ready for a Pickleball Challenge? Register for the Pickleball Tournament to be held Saturday, March 25 at the Downtown YMCA. 
First event $20 per person, additional event $10
Men's Doubles - Women's Doubles - Mixed Doubles
Open Tournament - Indoors (wooden floor) - Ages 18+
Limited to 22 players per event (11 teams) - Possible tiered divisions based on ability
Click HERE for a registration form. 
---
Play Pickleball!
Drop in and play a game of Pickleball on Tuesdays or Thursdays at 7:00 pm at the Downtown Y.
What is Pickleball? It's a combination of tennis, badminton and table tennis. The game is played with a solid paddle and a plastic, perforated ball resembling a Wiffle ball.
Pickleball is FREE to Y members!