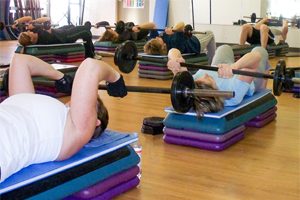 Join us in our Holiday Hustle, where you have the challenge of completing 35 group fitness workouts in 55 days! The holidays have a reputation of overindulgence and putting exercise on the last page of the "to-do" list. The Holiday Hustle will help you stay focused through this busy time of year!
November 21 – January 14      Register before November 26

Registration Fee Includes:
• Member punch card to keep track of your group fitness workouts
• Non Member punch card for admittance into the Y and to keep track of your group fitness workouts
• Double Punch Saturdays
• Event Shirt upon completion of challenge
• Private Facebook group with additional support
• Earn $10 back upon completion of 35 group fitness workouts
• Prize drawings every Saturday
• BodyPump 100 Celebration! Join us for our final workout on January 14. We will celebrate meeting the challenge goal and group exercise at the Y.
Member Fee: $20
Program Member Fee: $60
Register online or print a registration form and return to the Y.