Our Staff
Derek McInturf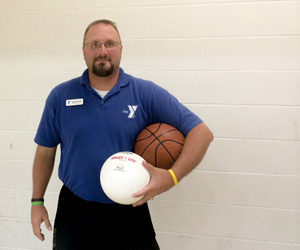 Time at the Y: My family and I have been involved in the Y for 8 yrs through youth programs, adult programs, and volunteering.
Experience: I have been involved with youth for 21+ years. This ranges from youth groups,
coaching, Sunday school, church programs, Grand Island youth Baseball Board.
Hobbies & Interests: I love all sports whether it be playing them or watching them. I have played and coached a variety of sports including but not limited to baseball, basketball, football, soccer, volleyball, and many more. So with that my sports interest just grows. I also can't get enough of movies. One of my best past times is watching movies whether they are the oldies, like musicals and dance, or the new and up to date. Of course my favorite teams if I had to pick are the Huskers, Chicago Bulls, and the 49ers. I do follow all teams and just plain love watching sports.
Favorite Theme Song: The Bulls intro theme song/Husker Tunnel walk
Favorite Quotes: I've missed more than 9000 shots in my career. I've lost almost 300 games. Twenty-six times, I've been trusted to take the game winning shot and missed. I've failed over and over and over again in my life. And that is why I succeed. -Michael Jordan
"You miss 100% of the shots not taken"
Psalm 94:22 "But the LORD has become my fortress, and my God the rock in whom I take refuge."
Joshua 1:9 "Have I not commanded you? Be strong and courageous. Do not be afraid; do not be discouraged, for the Lord your God will be with you wherever you go."