Darin Chaon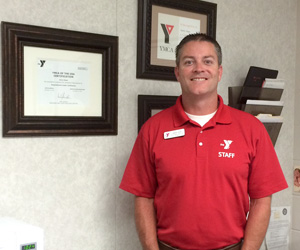 With the Y since: I began my adventure with the YMCA in Scottsbluff, Nebraska during my teen years participating in recreational basketball, weight-lifting and cardio fitness programs. Soon after I began coaching youth basketball and serving the YMCA as a referee. No matter where the road took me from Scottsbluff to Tacoma, Washington, Omaha to Hastings, Nebraska and now Grand Island the YMCA has always been an important part of my life and routine. I have had the pleasure of coaching several teams within the sports of flag football, soccer and basketball. Since 2005 I have served the Grand Island YMCA as the Senior Business Director earning the status of Organizational Leader along the way.
Qualifications and Education: I proudly earned a Bachelor of Science degree from the University of Nebraska Kearney in 1998. Since receiving my degree I have held leadership positions that have provided me with extensive experience leading others, acting as a source of information, serving my community and fostering a team environment. In addition I have a great deal of experience and training in effective communication strategies through attaining the status of Team Leader with the Nebraska Department of Correctional Services Crisis and Hostage Negotiations team. I have also served as an Employee Recruiter, Strong Kid's Campaign Chairman and a facilitator for Continuous Quality Improvement training within an organization.
Hobbies & Interests – My favorite pastime is spending quality moments with my fiancé Tesha and our 3 amazing children, Braydon, Mikayla and Ryker. There is never a dull moment in our home! I also enjoy sporting activities to include football, basketball, golfing, fishing and target shooting.
Movies, Books and Favorite Authors: Movies include "Elf", "The Ironman series", "Courageous" and "To Save a Life". Books include "The King James Bible", "Among the Missing", "Fitting Ends" and "Good to Great". Favorite Authors include Jesus Christ, Dan Chaon and Jim Collins.
Favorite Quote: "Imagine all that can be accomplished when no one is concerned with who will receive the credit."
Favorite Bible verse: John 3:16 – For God so loved the world he gave his one and only son, that whoever believes in him shall not perish but have eternal life.