Our Staff
Ashley Parmenter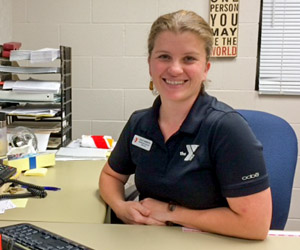 With the Y since 2005
Experience: My educational background is with Massage Therapy. I have a long history of customer service, starting with helping my mother with the family business when I was 8 years old. Hard work was instilled in me from my childhood doing chores on the farm.
Qualifications: I moved up from within the Grand Island Y. I started as a part-time Business Desk employee and was promoted to Membership Services Director. My Y certification is Listen First and I'm currently working on Team Leadership Certification.
Hobbies & Interests: Competitive sports such as softball and volleyball for my daughters and myself. Gardening, hiking, or camping, basically anything outdoors; sunshine and summertime. Scary movies are my favorites, but I mellow out to some Indie, Folk, and New Age music. I am a twin, and we love to laugh with our quirky twin sense of humor and our special ways of communicating.
Favorite Quotes: She stood in the storm and when the wind did not blow her away, she adjusted her sails. -Elizabeth Edwards
Life is like riding a bicycle. To keep your balance, you must keep moving. -Albert Einstein